High Mast & Ultra High Power Flood Lighting
Olivewood supplies the Lodestar range of high power LED flood lights manufactured by Aeon Lighting Technologies. These flood lights are available in various power configurations, all the way up to a 500 Watt unit, which produces a staggering output of over 50,000 Lumens – making it the brightest LED floodlight on the market today.
The availability of these ultra-high power LED units provides an opportunity to replace 1KW metal halide lamps in high mast and large area lighting applications, reducing energy consumption by 50% and, perhaps more importantly, reducing maintenance costs by a factor of ten.
The Lodestar flood lights can be specified with anodized casings and can be sealed to IP68 level, making them compatible with salt water and marine applications.
Features
IP68 certified – waterproof, dustproof, corrosion-resistant.

Wattages vary from 25W to 145W. Coming soon in 200W and 500W.

Floodlight RGB, PlayColor™ available with 8 different colors, built-in 6 dynamic programs and 16 levels of brightness adjustments.
Available as Grow Light with the perfect wavelength of red and blue colors for plant growth.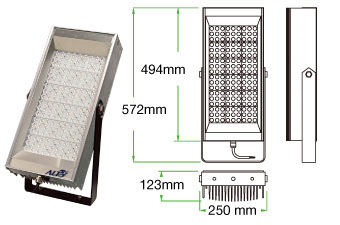 Lodestar Series F02 LED Floodlights
See the full Lodestar F02 LED Floodlight Range
F02T150 (Industrial Plus)
F02T100 (Industrial Plus)
F02T75 (industrial Plus)
F02T50 (Industrial Plus)
F02T25 (Industrial Plus)
F02T150
F02T100
F02T75
F02T50
F02T25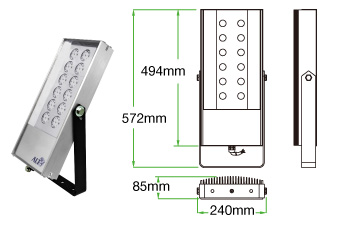 Lodestar Series F02 LED Floodlights (Solar)
See the full Lodestar F02 LED Floodlight (Solar) Range
F02T25 Solar (Industrial Plus)
F02T50 Solar (Industrial Plus)
F02T75 Solar (Industrial Plus)
F02T100 Solar (Industrial Plus)
F02T150 Solar (Industrial Plus)
F02T25 Solar
F02T50 Solar
F02T75 Solar
F02T100 Solar
F02T150 Solar